Confederate Soldiers' Home Opened Today.
Published in Atlanta Journal June 3 1901. The Confederate Soldiers' Home was built in Atlanta in 1901, paid for by private subscriptions from old veterans and among others, the Inman family, costing $35,000. It opened its doors in June of that year. Dr. Amos Fox and Col. W. L. Calhoun were presidents of the Board of Trustees. The veterans themselves pressed for the construction of such a home. The reunions were very popular and well attended. At a reunion of confederate veterans in 1898 in Atlanta, the subject of the badly home was discussed and a resolution passed in the conference of 1900 in Augusta to construct a home. Finally, Governor Candler in his message to the legislature recommended that the home be accepted by the state and that an appropriation be made. The library room was furnished by the Savannah Chapter of the United Daughters of the Confederacy.
Unfortunately, the first home burned down on September 30, 1901. There were seventy-eight veterans resident at the time. Atlanta Journal. September 30, 1901 as follows:
J. W. ANSLEY, Fulton;D. J. BAILEY, Henry;John A. BARRETT, Fulton;Peter BAUGHN, Oglethorpe [38th GA];Francis S. BEARDEN, Morgan [16th GA];Curran BECTON, Jefferson [1st Bat GA Sharpshooters];David R. BRANDON, Gwinnett;W. B. CLEMENTS, Fulton [27th GA];J. L. COLLIER, Gordon [23rd GA];L. W. DAVIS, Richmond;Robert B. DAVIS, Dooly [12th MS & 15th KY];Van W. DAVIS, Polk;W. R. EDWARDS, Elbert;Edward EVERETT, Fulton;Mortimer L. FERRISS, McIntosh [1st Bat GA Sharpshooters]; Ben FAULKNER, Cobb;James C. FORD, Fulton [4th GA];Cornelius FLOWER, Bibb;Jasper N. FICKS, Rockdale;Edward A. FURLOW, Morgan [3rd GA]; William T. GOSS, Dekalb;Dewitt C. GOZA, Fulton [20th GA]; R. A. GRIFFIES, Hall;H. C. GROVENSTEIN, Charlton; J. B. HALL, Troup [4th GA Reg];W. H. HANES, Gordon [4th GA]; M[elton] J. HARRALSON, Walton [3rd GA];J. C. HARRIS, Forsyth [50th AL]; E. V. P. HAUS, Whitfield [2nd KY Cav];Alexander C. HAYES, Fulton [TN Corps];C. N. HENDRICKS, [unreadable];Alfred B. HOLT, Whitfield [1st Cav];John [unreadable], Gwinnett;W. B. HUNTER, Troup [7th GA]; T. H. JACKSON, Troup;Henry R. JORDAN, Laurens;J. R. KENNY, Bartow; G. W. LACKEY, Fulton;Andrew J. LAIRD, Fulton;Charles L. LANGFORD, Green [3rd GA];F. M. LEVERITTE, Morgan [GA Militia];G. W. MILLER, Cobb [1st GA Cav];George W. MILLS, Washington;J. M. MILLS, Whitfield [56th GA]; Amos MOORE, Fulton [Ordnance Dept];Willoughby MANNING, Dougherty; James S. MURPHY, Jasper [4th GA];Thomas B. MULLIN, Fulton;A. W. NEWMAN, Pulaski [5th GA];John R. O'CAIN, Charlton;C. S. PAUL, Fulton [Walthal's Bat];Green M. PITTMAN, Wilkinson;Joseph RAWLS, Richmond;J. W. REYNOLDS, Washington;Anthony E. ROE, Fulton;Z. M. ROGERS, Cobb [SC Art];William __________; SAUNDERS, Johnson [1st GA Cav];John H. SILVA, Chatham;R. M. SMITH, Fulton;John C. STOKES, Walker;James R. STRINGER, Fulton;J. F. WHITTLE, Bibb;John W. WHITTLE, Houston [1st Cav GA Reserves];William M. WILLIAMS, Richmond;S. B. F. YOUNG, Polk. H. W. Moran, of Richmond, and Joseph H. Brown, of Morgan, were away on leave of absence. The invalids who had to be taken from the buildings were: J. W. Ansley, Fulton; Francis S. Beardon, Morgan; Curran Becton, Jefferson; Van W. Davis, Polk; R. A. Griffies, Hall; G. W. Lackey, Fulton; Charles L. Lankford, Green; James S. Murphy, Jasper; and S. B. F. Young, Polk.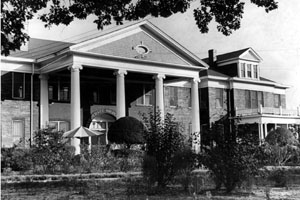 Picture 1902
Atlanta Journal.
The following year, a second home was built on the site at 410 Confederate Avenue, Atlanta, Georgia
If you are searching for persons who resided in any of the confederate homes, the names can sometimes be found scattered about in newspaper articles. Frequently, the title was something about the oldest surviving soldier and usually featured photographs. Other old articles are about the confederate reunions held in many states.