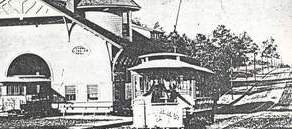 Pictured is the old trolley barn on Edgewood Avenue during the 1940's. Tracks began in downtown Atlanta at Five Points and ended on Edgewood Avenue. They were powered by overhead electrical lines. Generally, a ride was rather tiresome, as the trolley seemed to joggle along the tracks. Across from the barn is Lynwood Park.
"
Find your Ancestors on Georgia Pioneers"
"
Subscribe and view documents
"